PIGEON WINGS STRIKE!
Duke Dexter and his evil minions are back to take over Velo City. They have all new tricks and traps to cook Pigeon's tenders -it's more than a bird can handle. Luckily, our hero's got a squad. Shoot, dodge and boost with Cunningham -the hotshot hamster, Presto -our literal fish out of water, and the rest of Pigeon's friends. It's too late to be afraid, it's time to STRIKE!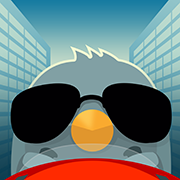 "An endless runner to coo over", PocketGamer 4.5/5.0
"Best new iPhone games April 10th, 2019", TouchArcade
"5 best new games for iOS and Android this week" - April 11th, 2019, PocketGamer
"'Pigeon Wings STRIKE' is a New Endless 'Pigeon Wings'...", TouchArcade
The jet-fueled sequel to Pigeon Wings - on the Best Games of the Year lists of TouchArcade, Macworld, CNET, Nerdly, and TechRadar.
Huge thanks to the fans of the original:
"Awesome graphics and story. Changed my mind on tilt control!" - Hots56
"Excellent, must own iOS game!" - AnotherkellydwN
"The only bad thing is how cocky pigeon can be." - brianmick